MANNY PACQUIAO UK TOUR 2023!
We are absolutely delighted to announce our next Experience With LIVE events in association with MDG Events will be with the one, the only boxing legend Manny Pacquiao!!
This man truly needs no introduction. Professional boxer, media celebrity, and politician. Regarded by boxing historians as one of the greatest professional boxers of all time!
Pacquiao is the only eight-division world champion in the history of boxing and has won twelve major world titles. He was the first boxer to win the lineal championship in five different weight classes, the first boxer to win major world titles in four of the eight "glamour divisions" and is the only boxer to hold world championships across four decades.
In these WORLD exclusive events we will delve into his truly remarkable life story 'When I was younger, I became a fighter because I had to survive. I had nothing. I had no one to depend on except myself. I realized that boxing was something I was good at, and I trained hard so that I could keep myself and my family alive'
This is truly a once in a lifetime opportunity!
THIS IS NOT BE MISSED!
Expect...
An 

Exclusive Live on-stage interview 

with the man himself Manny Pacquiao
High-quality 3-course dinner
Live Jazz played throughout Dinner
Exclusive auction with signed 

bespoke Pacquiao memorabilia

HUGE production with unseen videos and photos shown throughout the interview on giant screens
Chances to 

WIN 

Pacquiao related prizes in the event Prize Draw
--------------------------------------------------------------------------------------------------------------------------
Never been to 'An Experience With' event?
See our Youtube channel HERE, Showcasing our previous events with Sylvester Stallone, Mel Gibson, Arnold Schwarzenegger, Al Pacino, Robert De Niro, Jean Claude Van Damme, Conor Mcgregor and more!!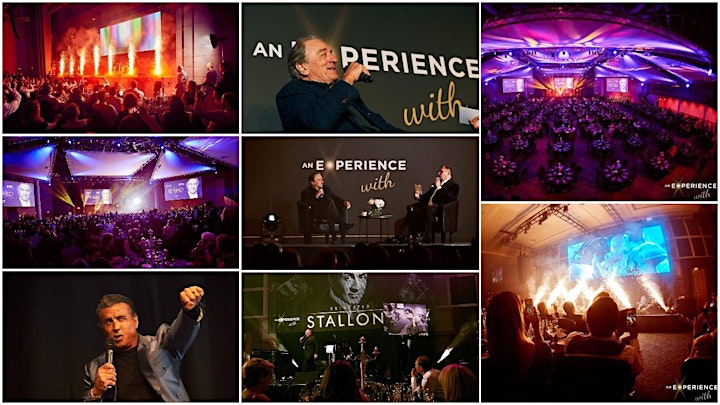 GENERAL ADMISSION (STANDARD) + (PREMIUM)
Seated table location in the main room (Tables of 10)
Manny Pacquiao LIVE onstage interview
Fantastic unrestricted viewing of the stage
Access to designated onsite bars and merchandise stalls
Chances to win a Premium professional photo with Manny Pacquiao + other prizes in our Prize Draw
*Please note this ticket does not include dinner*
STANDARD = £55 Per Ticket + BOOKING FEE
PREMIUM = £65 Per Ticket + BOOKING FEE
(Price difference based on location of seat)
---------------------------------------------------------------------------------------------------
GOLD DINNER

All of General Admission +
High-quality 3-course dinner
Live Jazz played throughout Dinner
Stunning auction with exclusive signed bespoke Pacquiao memorabilia
Inclusive event programme
£145 per ticket 

+ BOOKING FEE
---------------------------------------------------------------------------------------------------
VIP DINNER (VERY LIMITED)
All of the above +
Prime

 table location
Welcome drinks package shared with your table, including Wine, Beers, Soft drinks and Iced Water
A chance to ask a question in the audience Q & A, we will ask you to submit your best questions pre-event, if selected, 

YOU

 will read out your question to Manny Pacquiao himself at the event.
£175 per ticket

 + BOOKING FEE
---------------------------------------------------------------------------------------------------
PLATINUM DINNER (VERY LIMITED)
All of the above +
£250 per ticket

 + BOOKING FEE


PROFESSIONAL PHOTO (1 PERSON IN PHOTO) (Limited Availabilty )
Includes
Having a professional picture taken with Manny Pacquiao meet him in person
Branded Experience With LIVE mount
Free digital copy so you can share anywhere online (In the week following the event you will be emailed a private link to download your image)
Limited edition access lanyard
Photos developed the evening of the event ready to take home and treasure forever!
£100 PER PERSON + FEES
PROFESSIONAL PHOTO (2 PERSONS IN PHOTO)
Includes all of the above +
2 people in the photo with the celebrity
2 X Copies of the Photo
2 X High quality branded Experience With LIVE mount
£150 PER COUPLE + FEES
PREMIUM PHOTO (1 PERSON IN PHOTO)
Includes all of the 1 person photo +
Queue priority, Premium guests will be first in line for the photos
Limited edition GOLD access lanyard
Inclusive signed poster OR signed Glove 
£195 PER PERSON + FEES
**The above items will be signed at the official ' Experience With' signing, to take place before our events once Manny Pacquiao lands in the UK. All our items come with full Beckett authentication 
** ALL PHOTO UPGRADE TICKET HOLDERS MUST ALSO PURCHASE A TICKET TO THE MAIN EVENT**

DRESSCODE
DINNER GUESTS (INCLUDING GENERAL ADMISSION GUESTS)
' Experience With' LIVE events are strictly Black Tie. Our events are highly exclusive so we want everyone to dress for the occasion. We appreciate that a Black tie dress code can be a little hard to define and so we ask that you dress to impress.
Dresses can be long or short, jumpsuits are welcome, any colours are permitted.
We love to see a dinner jacket and bow tie but we will also accept very smart suits.
If any of our guests happen to be Scottish and proud we welcome anyone attending in a kilt.
The priority for us is that all outfits should be glamorous and elegant, failure to keep to the dress could mean you are refused entry to the event.
See our FAQ page for more information www.experiencewith.com
EVENT TIMES
PLATINUM - 17:15 Arrival (Pre Event Drinks Reception)
VIP, GOLD 17:45 Arrival
GENERAL ADMISSION PREMIUM + STANDARD 19:00 Arrival
CLOSE- 00:00
REFUNDS
Our Policy is to only refund customers if the event is cancelled or rescheduled ONLY, see our terms and conditions for further information
--------------------------------------------------------------
DO YOU WANT TO BECOME AN EXPERIENCE WITH SUBSCRIBER AND GET SUPER PRIORITY ACCESS TO OUR LIVE EVENTS?
Being a subscriber, you will also get access to our exclusive streaming platform where you can watch interviews from past events and world exclusive interviews with the biggest names in the world! including Sylvester Stallone, Arnold Schwarzenegger, Robert De Niro and many many more!
SIGN UP BY CLICKING HERE
Pick a package and from as little as £4.99 a month